Activision, publisher of popular video game titles such as the Call of Duty saga has started a legal battle against EngineOwning, a software developer to cheat on the title COD: Warzone. The company argues that the work of this hacker generates considerable economic losses and irreparable damage to his reputation.
According to a report published in The Verge, the lawsuit was filed this week in the Central District Court of California. The document alleges that EngineOwning violated Activision's copyright by developing popular cheats, including aimbots, triggerbots and other ways of cheating, hurting the company's profits.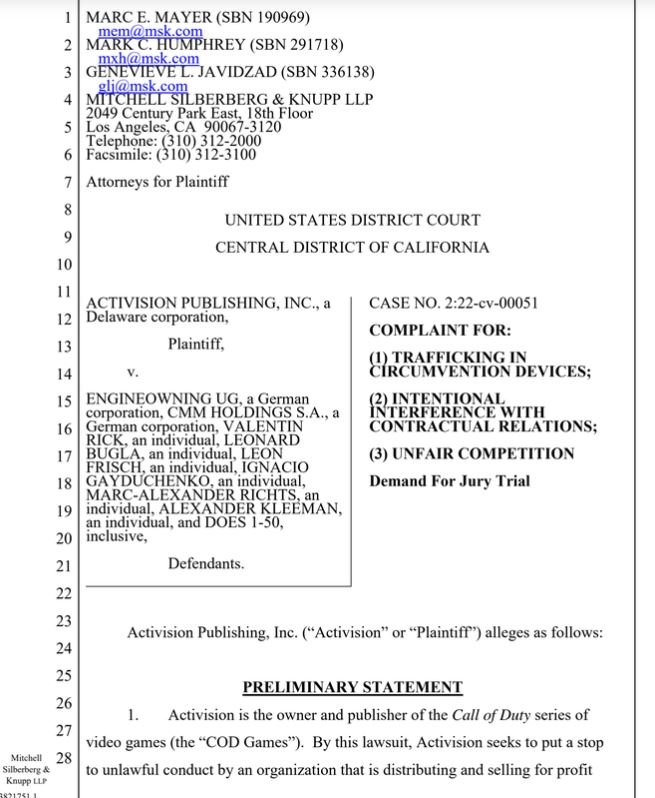 In other allegations against this practice, Activision argues that the work of developers such as EngineOwning directly impacts the experience of legitimate users, generating dissatisfaction with the company's products and favoring the margin of action of users who resort to cheats to improve their performance.
About EngineOwning, cybersecurity specialists mention that this developer (or team of developers) offers for sale multiple cheats for popular video games, mainly for the Call of Duty, Halo and Battlefield series. The set of cheats for Warzone is available for less than a dollar on the EngineOwning website.
Activision's security teams seem to have been aware of these cheats for months, during which they have been expelling thousands of players from the game for having used these hacking tools. A few weeks ago, the company released the Ricochet anti-cheat software, with kernel-level access and with which they hope to detect all cheaters in the shortest possible time.
The lawsuit comes amid a crisis at Activision, which in addition to facing multiple workplace harassment lawsuits, has decided to fire its entire quality assessment staff, leading to a developer strike. The strikers say the company has not acknowledged their demands, so the strike does not appear to have a short-term end.
To learn more about information security risks, malware variants, vulnerabilities and information technologies, feel free to access the International Institute of Cyber Security (IICS) websites.
The post Call of Duty: Warzone cheat maker and distributor sued by Activision gaming company appeared first on Cyber Security News | Exploit One | Hacking News.
Go to Source of this post
Author Of this post: Daniel Tai